About Vänsterpartiet (the Left Party)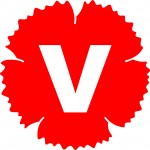 The Left Party (Swedish: Vänsterpartiet, V) is a socialist and feminist political party in Sweden, founded in 1917 following a split from the Swedish Social Democratic Party.
The party has had many names throughout its history.
On welfare issues, the party opposes privatization.
Moreover, the party opposes Swedish membership of the Euro currency and advocates increased public expenditure.
From 1998 to 2006, the Left Party was in an arrangement with the ruling Social Democrats and the Greens.
Until then it also supported the Social Democratic minority government in the Swedish parliament, as well as in many of Sweden's counties and municipalities.
The Left Party is a member of the Nordic Green Left Alliance and its single MEP sits in the European United Left–Nordic Green Left parliamentary group.
Read more of the party programme in English and other langues here.
Or read more about Vänsterpartiet on Wikipedia here.
If you want to contact us, please fill out the form here.